CCC -CP -NOTICE 2 OF 2022
 UPDATE ON THE NOTICE TO THE PUBLIC ON THE PRODUCT RECALL OF WOOLWORTH 100% APPLE JUICE
On 18th October, 2021, the COMESA Competition Commission (the "Commission") pursuant to Article 30(1)(b) of the COMESA Competition Regulations, 2004 ('the Regulations') issued a warning Notice to the general public that Woolworth had recalled its Woolworth 100% Apple Juice 200ml. Further, in accordance with Article 33 of the Regulations, the Commission requested Woolworth to ensure that all the affected products are removed from the COMESA market.
The public is hereby informed that the Commission engaged Woolworths to establish the progress made on recalling the products from the affected markets. Woolworths has informed the Commission that they have removed all the products from the shelves and are awaiting approval from the relevant authorities to start the destruction of the products.
It should be remembered that the recall followed quality tests that identified that some of the batches contained patulin levels higher than the legal threshold of 50 parts per billion (microgram/kg).
The specific batches of the recalled Woolworth 100% Apple Juice 200ml were published as shown below.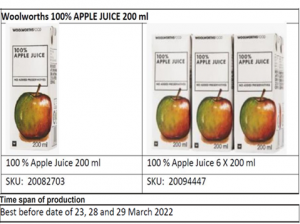 The Commission has taken note of the actions put in by Woolworths in removing the products from the market to protect consumers. The Commission believes that the situation has been contained and there may no longer be any substantial effects on consumers.
However, consumers who are still in possession of the affected products are advised to return them to their point of purchase. Consumers who were affected by the consumption of the affected products and were not compensated and those who attempted to return the affected product and were not refunded or were denied the return of the product can report to the Commission at the addresses below.
The Commission welcomes any representations on the matter from all interested stakeholders and the general public. Should you require more information or clarification on the matter you may contact the undersigned on +265 1 772 466, mdisasa@comesa.int  or Mr. Steven Kamukama, Manager Consumer Welfare and Advocacy Division on skamukama@comesa.int.
Meti Demissie Disasa
Registrar
COMESA Competition Commission
5th Floor, Kang'ombe House
P.O. Box 30742, Lilongwe 3, Malawi
Office Phone: +265 (0) 1 772466
Email: mdisasa@comesa.int   or compcom@comesa.int
CLICK HERE TO DOWNLOAD UPDATE ON THE NOTICE TO THE PUBLIC ON THE PRODUCT RECALL OF WOOLWORTH 100% APPLE JUICE FILE