PRESS RELEASE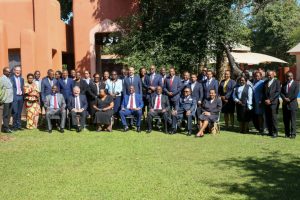 The COMESA Competition Commission (the "Commission") held the Second (2nd) Regional Judges Workshop on 28th and 29th April 2022 in Livingstone, Zambia under the theme, "Towards Effective Enforcement of Competition and Consumer Protection Laws in the wake of Regional and Continental Integration".
The opening session was presided over by His Lordship the Chief Justice of the Republic of Zambia, Hon. Justice Dr. Mumba Malila, SC, on 28th April 2022.  In his Keynote address, his Lordship called upon Judges in the COMESA region to make a meaningful and well-informed contribution in the interpretation and enforcement of competition and consumer protection laws.  He noted that competition law and policy is critical to effective and harmonious national and regional economic growth.
In his Remarks, the COMESA Competition Commission Director and Chief Executive Officer, Dr. Willard Mwemba, noted that more COMESA Member States have adopted national competition and consumer protection laws and established institutions to regulate competition. He emphasised the importance of the business community, lawyers and judges to read from the same script with respect to what it means to regulate competition and enhance consumer protection. He noted further that more needed to be done to build capacity in competition law so that disputes which disguise as pure commercial transactions do not fall through the cracks of justice in order to not lose the economic benefit that would have accrued from regulating such transactions.
On behalf of the COMESA Court of Justice, the Judge President of the Court, Hon. Justice Lombe Chibesakunda, emphasised the need by Member States to commit to prohibiting any practice that negates the objective of free and liberalized trade. Specifically, the commitment to prohibit any agreement between undertakings or concerted practice which have as their objective or effect the prevention, restriction, or distortion of competition within the Common Market. She called upon the judiciaries of Member States to ensure the enforceability of the COMESA Treaty at national level.
The Delegates at the two-day workshop included, the Hon. Chief Justices of Zimbabwe, Mr Luke Malaba and the Democratic Republic of Congo (DRC) Mr David Christophe Mukendi Musanga, respectively. Also present were the Hon. Judge President of the COMESA Court of Justice, Lady Justice Lombe Chibesakunda, the Principal Judge of the COMESA Court of Justice and Lady Justice Qinisile Mabuza.  Other participants include, Hon. Justices drawn from thirteen (13), out of twenty-one (21) COMESA Member States: Burundi, Comoros, Democratic Republic of Congo (DRC), Egypt, Eswatini, Ethiopia, Kenya, Malawi, Mauritius, Sudan, Uganda, Zambia and Zimbabwe.
Meti Disasa
Registrar
COMESA Competition Commission
5th Floor-West Wing, Kang'ombe House
P.O. Box 30742, Lilongwe 3, Malawi
Office Phone: +265 (0) 1 772466
 Email:  compcom@comesa.int
CLICK HERE TO DOWNLOAD THE PRESS RELEASE SECOND REGIONAL COMESA COMPETITION COMMISSION JUDGES WORKSHOP