18TH OCTOBER, 2021
CCC -CP -NOTICE 6 OF 2021
NOTICE TO THE PUBLIC ON THE PRODUCT RECALL OF WOOLWORTHS 100% APPLE JUICE 200ML
The COMESA Competition Commission (the "Commission") hereby notifies the general public that Woolworths is recalling certain batches of Woolworths 100% Apple Juice 200ml.
Following its routine quality tests, Woolworths identified that the apple juice (single boxes and six packs) with the best before date of 23, 28 and 29 March 2022 contains patulin levels higher than the legal threshold of 50 parts per billion (microgram/kg). According to the World Health Organisation, patulin is a form of mycotoxin. Consumption of high levels of patulin may cause nausea, gastrointestinal disturbances and vomiting.
The specific batches of the recalled Woolworths 100% Apple Juice 200ml and the affected countries in the Common Market are shown below.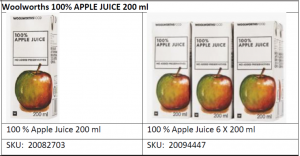 Time span of production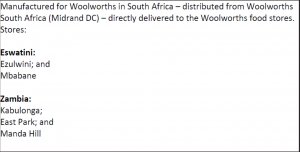 Woolworths has informed the Commission that the recalled products were imported and marketed in above listed Member States of the Common Market for Eastern and Southern Africa ("the Common Market").  Thus, the safety issue will affect consumers and distribution networks in the affected Member States in the Common Market. In view of the foregoing and pursuant to Article 30(1)(b) of the COMESA Competition Regulations ("the Regulations"), the Commission would like to inform the general public to exercise caution and avoid the purchase or consumption of the recalled products.
If the above products were already purchased, consumers are advised to return the products where were purchased for a refund or replacement. Here is the link to the details of the recall by Woolworths.
The Commission has further written to Woolworths requesting them to undertake the following in the affected Members States of the Common Market:
Issue a notice to the public indicating its distributors and related dealers in the Common Market to enable consumers identify where to return the products.
Inform the public of any undertaking to replace the products or refund the price of the products
The Commission has further informed Woolworths that failure to accomplish the above, within in 10 days, shall result in the Commission issuing a compulsory recall with possible fines if the matter is not properly addressed.
The Commission welcomes any representations on the matter from all interested stakeholders and the public. Should you require more information or clarification on the matter you may contact the undersigned on mdisasa@comesa.int  or our Manager Consumer Welfare and Advocacy Division, Mr. Steven Kamukama, on skamukama@comesa.int
Meti Demissie Disasa
Registrar
COMESA Competition Commission
5th Floor-West Wing, Kang'ombe House
P.O. Box 30742, Lilongwe 3, Malawi
Office Phone: +265 (0) 1 772466
 Email:  mdisasa@comesa.in or compcom@comesa.int
CLICK HERE TO DOWNLOAD THE NOTICE TO THE PUBLIC ON THE PRODUCT RECALL OF WOOLWORTHS 100% APPLE JUICE 200ML