12 August 2022
PRESS RELEASE
HIS EXCELLENCY, THE PRESIDENT OF THE REPUBLIC OF ZIMBABWE, DR EMMERSON DAMBUDZO MNANGAGWA, OFFICIALLY OPENS THE TRAINING WORKSHOP FOR ZIMBABWEAN JUDGES ORGANISED BY THE COMESA COMPETITION COMMISSION, JUDICIAL SERVICE COMMISSION AND THE COMPETITION AND TARIFF COMMISSION
The COMESA Competition Commission ('the Commission') in partnership with the Judicial Service Commission (JSC) and the Competition and Tariff Commission (CTC) is holding a two (2) day training workshop for Zimbabwean Judges from 12 to 13 August 2022 on competition law.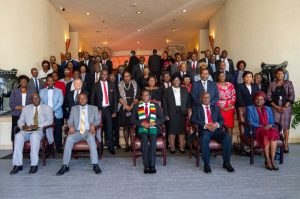 The two-day training workshop which is being held in Victoria Falls town, Zimbabwe is aimed at building capacity among Judges in the enforcement of competition law as they play a key role in ensuring that all stakeholders comply with the law. The workshop was officially opened today by His Excellency, the President of the Republic of Zimbabwe, Dr Emmerson Dambudzo Mnangagwa who also delivered a keynote address where he highlighted that competition law is a key enabler of free and liberalized trade and regional integration as it allows for all citizens to participate in the economic development of a country, Zimbabwe inclusive. This could be achieved through effective competition laws that can address anti-competitive practices. His Excellency highlighted that Zimbabwe in its Vision 2030, identified uncompetitive business environment, Uncompetitive exports; and Internal and external macro-economic disequilibria as some of the challenges that have impeded economic growth and development. These challenges if left unattended can create economic cartels through monopolies being enjoyed by some business enterprises. Such cartels are seen manifesting in business today when the price of goods and services continue to rise unabated and without justification. His Excellency also highlighted that the training workshop was therefore important in order to address these challenges and because Judges needed to be continuously capacitated especially in the area of competition law so that they can keep abreast with the rising challenges affecting the field and the best ways of addressing those challenges.
The Director and Chief Executive Officer of the COMESA Competition Commission; Dr. Willard Mwemba in his remarks highlighted that national economies have become integrated through the global network of trade, communication, immigration and transportation. Such that markets for businesses have expanded beyond national boundaries. It is therefore common to find anti-competitive practices by businesses in one country affecting businesses and consumers in another country due to globalization.  With such changes in the market, the Treaty Establishing the Common Market for Eastern Southern Africa recognised the need for competition law in the Common Market if regional integration is to be achieved. This is to ensure that businesses do not set up non-tariff barriers by engaging in anti-competitive practices. He highlighted that the judiciary is important for economic development as the chain of justice would be broken if there is no effective judiciary.
The Minister of Industry and Commerce, Honourable Dr Sekai Nzenza (MP) highlighted that competition law is key in achieving the vision 2030 and to support the industrialization of Zimbabwe. She highlighted that the training workshop is important in bridging the knowledge gap that exists among the key stakeholders in ensuring compliance with competition law.
The COMESA Competition Commission shall continue working together with all the stakeholders in the Common Market to make sure all anti-competitive practices are eliminated.
CLICK HERE TO DOWNLOAD THE PRESS RELEASE OF THE TRAINING WORKSHOP FOR ZIMBABWEAN JUDGES