Ref: CCC/CA/02/01/2022     
 CONSUMER ALERT
NESTLÉ SOUTH AFRICA RECALLS KIT KAT PRODUCTS DUE TO POTENTIAL PRESENCE OF GLASS PIECES
The COMESA Competition Commission ("the Commission") has become aware that on 3rd February, 2022 Nestlé South Africa voluntarily recalled a limited number of its KIT KAT milk chocolate products due to the possibility that they may contain glass pieces.
According to Nestlé South Africa, it had discovered the presence of small pieces of glass during their quality and safety checks.
In its recall Notice Nestle South Africa guided that consumers can identify the products in question by checking the Production Code and Best Before Date on the side panel of the package. The KIT KAT products impacted in the recall are indicated below:
Product
Production Code
Best Before Date
1.
NESTLÉ KIT KAT 2 Finger Milk 36x20g UTZ MB
13590177

13600177

13620177

13630177

13640177

20010177

30th September 2022

31st October 2022

2.
NESTLÉ KIT KAT Mini Bag Milk 32x200g UTZ
20120177

20010177

20020177

20030177

13620177

13600177

13610177

30th September 2022

31st October 2022
Nestlé Kit Kat 2 Finger Milk 36x20g UTZ MB

Nestlé Kit Kat Mini Bag Milk 32x200g UTZ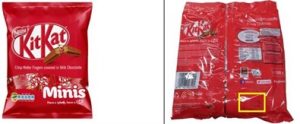 Hence, Consumers are advised not to consume the above specified products, but return them to the point of purchase for a full refund. Consumers may also contact Nestlé South Africa through call or WhatsApp on 0860096116 or email consumer.services@za.nestle.com, or reach out to them via their social media platforms.  Consumers who have consumed the recalled product are advised to contact a health care provider if they have any questions, concerns or have experienced any problems related to consuming these KIT KAT products.   Consumers who have consumed the affected products and provide evidence that as a result of this consumption, they have suffered injury,  have a right to compensation in accordance with  Article 36 of the COMESA Competition Regulations (2004). .
Further details regarding the product recall can be accessed through the following link: Voluntary Recall of KIT KAT
The Commission wishes to request any person who purchased and/ or consumed the product and is unable to secure a replacement, refund or compensation, or who establishes that the recalled product is being sold in the Common market to report the matter to the Commission on +265 (0) 1 772466 or contact the undersigned on mdisasa@comesa.int; or Mr. Steven Kamukama, Manager Consumer Welfare and Advocacy Division on skamukama@comesa.int .
Affected persons may also contact their national consumer institutions or any other body with the mandate on consumer protection in their countries.
Meti Demissie Disasa
Registrar
COMESA Competition Commission
5th Floor, Kang'ombe House
P.O. Box 30742, Lilongwe 3, Malawi
Office Phone: +265 (0) 1 772466
Email: compcom@comesa.int
CLICK HERE TO DOWNLOAD THE CONSUMER ALERT NESTLÉ SOUTH AFRICA RECALLS KIT KAT PRODUCTS DUE TO POTENTIAL PRESENCE OF GLASS PIECES