CONSUMER ALERTS
CCC/CA/4/2022
KENYA BUREAU OF STANDARDS TEMPORARILY SUSPENDS SEVERAL BRANDS OF EDIBLE OILS AND COOKING FATS 
The Kenya Bureau of Standards (KEBS) has temporarily suspended several brands of edible oils and cooking fats by various oil refineries in Kenya, for failing to meet the requirements of the Standards Act, and the respective product standard KS EAS 769: KS 2019 Fortified Edible Oils & Fats – Specification. According to KEBS, the suspension aims to facilitate protection of consumers from potentially unsafe products, and to allow the manufacturers of the non-compliant brands to initiate and put in place effective corrective action under KEBS supervision, before being allowed back into the market.
Click here to find further details regarding the suspension of the edible oils and fats.
CCC/CA/3/2022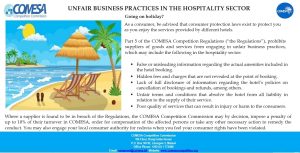 CCC/CA/8/1/2021
CONSUMER ALERT: JOHNSON & JOHNSON RECALLS SUNSCREEN DUE TO TRACES OF BENZENE
The COMESA Competition Commission has become aware that Johnson & Johnson Consumer Inc. (JJCI) issued a voluntary recall for five of its sunscreen sprays after it detected presence of low levels of benzene in the products. Benzene is classified as a human carcinogen, a substance that could potentially cause cancer depending on the level and extent of exposure. JJCI reports that Benzene is not an ingredient of their product and they are still investigating why there were traces of benzene.
According to JJCI, it had determined that while daily exposure to five Neutrogena and Aveeno sprays would not cause adverse health effects, it recalled the products out of an abundance of caution.
The sunscreen products impacted in the recall indicated below are packaged in aerosol cans:
NEUTROGENA® Beach Defense® aerosol sunscreen,
NEUTROGENA® Cool Dry Sport aerosol sunscreen,
NEUTROGENA® Invisible Daily™ defense aerosol sunscreen,
NEUTROGENA® Ultra Sheer® aerosol sunscreen, and
AVEENO® Protect + Refresh aerosol sunscreen.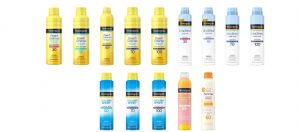 Consumers are advised to stop using these specific products and appropriately discard them. Consumers may contact their suppliers for refunds. Consumers may also contact their JJCI Consumer Care Center 24/7 with questions or to request a refund by calling 1-800-458-1673. Consumers are advised to contact their physician or healthcare provider if they have any questions, concerns or have experienced any problems related to using these aerosol sunscreen products. JJCI is also notifying its distributors and retailers by letter and is arranging for returns of all recalled products.
Further details regarding the product recall can be accessed through the following link: Voluntary Product Recall of Johnson & Johnson
—————————————————————————————————————————-
CCC/CA/8/1/2020
CONSUMER ALERT ON PYRAMID SCHEMES
The COMESA Competition Commission ('the Commission') wishes to advise consumers to be on the lookout for pyramid schemes. A pyramid scheme is where a business and its partners encourage people to join at a fee. The people that join are also required to recruit others at a fee to make money. Members of a pyramid scheme make money through the recruitment of others.
The Commission's attention has been drawn to the activities of Crowd1, which markets itself as a digital multi-level marketing company and whose operations are being investigated in some jurisdictions.  Specifically, the Commission has noted that authorities in the Philippines and Namibia found that Crowd1 members make money by recruiting others and has since been banned in Namibia. In Philippines, authorities issued a cease and desist order to Crowd1 for operating without a license. Further, authorities in Mauritius and New Zealand have issued investor alerts, advising the public to exercise caution in their dealings with Crowd1. Consumers should also be aware that concerns have been raised on the operations of Crowd1 in South Africa where the relevant authorities are still assessing the complaints raised.
The Commission has observed that some pyramid schemes pose as multi-level marketers that pretend to be selling products. However, at close glance there are no sustainable earnings from the sale of the products and members are often advised to recruit others to make money. Pyramid schemes are not sustainable as those at the top of the pyramid benefit at the expense of new recruits.
Consumers are therefore advised to exercise caution when dealing with Crowd 1 and also conduct research about companies they wish to invest in to avoid losing their hard earned money.