CCC/CA/8/1/2021
The COMESA Competition Commission has become aware that Johnson & Johnson Consumer Inc. (JJCI) issued a voluntary recall for five of its sunscreen sprays after it detected presence of low levels of benzene in the products. Benzene is classified as a human carcinogen, a substance that could potentially cause cancer depending on the level and extent of exposure. JJCI reports that Benzene is not an ingredient of their product and they are still investigating why there were traces of benzene.
According to JJCI, it had determined that while daily exposure to five Neutrogena and Aveeno sprays would not cause adverse health effects, it recalled the products out of an abundance of caution.
The sunscreen products impacted in the recall indicated below are packaged in aerosol cans:
NEUTROGENA® Beach Defense® aerosol sunscreen,
NEUTROGENA® Cool Dry Sport aerosol sunscreen,
NEUTROGENA® Invisible Daily™ defense aerosol sunscreen,
NEUTROGENA® Ultra Sheer® aerosol sunscreen, and
AVEENO® Protect + Refresh aerosol sunscreen.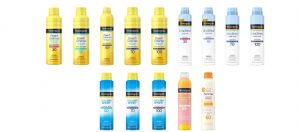 Consumers are advised to stop using these specific products and appropriately discard them. Consumers may contact their suppliers for refunds. Consumers may also contact their JJCI Consumer Care Center 24/7 with questions or to request a refund by calling 1-800-458-1673. Consumers are advised to contact their physician or healthcare provider if they have any questions, concerns or have experienced any problems related to using these aerosol sunscreen products. JJCI is also notifying its distributors and retailers by letter and is arranging for returns of all recalled products.
Further details regarding the product recall can be accessed through the following link: Voluntary Product Recall of Johnson & Johnson
Click here to download the CCC Consumer Alert 8/1/2021